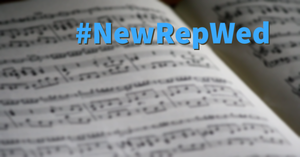 Every Wednesday, we share score-following videos to our Facebook and host discussions about piano and guitar repertoire that may be exciting to learn. Check out our recommendations and follow us for more curation by our team of educators! #NewRepWed
August, 2021 - this is an all piano month, and the composer names are all from the ABC section of the score shelf. 
François Couperin (1668-1733)
Le Tic Toc Choc Ou Les Maillotins for Piano
Grigory Sokolov (piano, live)
 
#Baroque
The French composer François Couperin (1668-1733) provides some of the earliest and most prolific examples of programmatic music - that is, music which tells a story, usually through a descriptive title or musical imitation, such as in this piece which sounds like a ticking clock (or maybe a music box?). This was originally written for harpsichord - can you figure out why it might be a big easier to play it that way than on the piano? Post your answer!
Ludwig van Beethoven (1770-1827)
11 Bagatelles, Op. 119
Rudolf Serkin (piano)
#Classical
What is piano without Beethoven? Aspiring to learn a Beethoven piano sonata is on the wish list of many piano students, but there is more than you might know at the intermediate level as well! These Bagatelles from Op. 119 are short, but challenging and rewarding. Perhaps some of them should be on your list too! Let us know which is your favorite.
Amy Beach (1867-1944) 
Children's Carnival Op. 25
Sahan Arzruni (piano)
#Romantic
Amy Beach was a prolific American composer (and tremendous pianist) who lived 1867-1944. This set of character pieces became popular near the end of the 19th century, close to when her first Symphony (1896) became the first to be composed and published by an American woman. No.5, "Secrets" is our favorite in the set; which is yours?
Lili Boulanger (1893-1918)  
Trois morceaux pour piano
Judith Pfeiffer (piano)
#Post-Romantic
The French Lili Boulanger (younger sister to the famous pianist and teacher Nadia Boulanger) only lived to be 24 years old, and yet was the first even female winner of the Prix de Rome composition prize. This set of elegant impressionistic pieces are a a great (and difficult) introduction to her works. Which of these is your favorite?